[ww-shortcode-gap height="30″]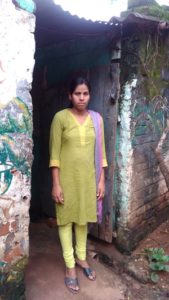 Winning Over Odds
Sarita was 9 years old when she was admitted in the Centre of Special Education for Children with Multiple Disabilities of Open Learning Systems (OLS), an organization working for the care, protection, education, empowerment and rehabilitation of children/persons with autism, cerebral palsy, intellectual disability and multiple disabilities. Sarita was assessed with mild intellectual disability and hearing impairment and hence put in the functional academy of the Centre where she could learn to read and write. After a few months she was admitted in Class II in the nearby general school. However, she discontinued going there after a couple of years as she felt uncomfortable and lonely there. She had no friends. She came back to OLS where she started learning Odissi dance, tailoring, chocolate making etc. She has given numerous stage performances in Odissi in various forums receiving applause and applaud from the spectators.
Her special talent in sports was identified by the CEO of OLS who is also the Honorary Area Director of Special Olympics Bharat-Odisha and she was sent to participate in various competitions organised by Special Olympics Bharat in different parts of the country. Her talent in cycling was honed by her coach, mentor and confidante, Ms. Arpita Mohapatra, an SOB National Trainer and Limca Book of Records holder in Mountain Biking (cycling) from Odisha. Under her tutelage she demonstrated excellent skills.
Sarita has also shown her prowess in Floorball and Floor Hockey which are events for the World Winter Games of Special Olympics to be held in Austria in 2017. She has participated in the National Championships for both the disciplines and has been selected to represent the country in the World Winter Games 2017 in Floor Hockey.
Sarita has been the torch-bearer for SOB, OLS, the State of Odisha, India and her family for the last 5 years or so. However, the climb so far has not been free of hardships for her. Her father is a person with hearing impairment and earns a paltry sum as a house painting worker. Most of the time, he keeps ill and is unable to go out for work to earn his livelihood. Sarita's mother has opened a small grocery store in her temporary house in a slum in Bhubaneswar to augment the family income. The slum is in a neglected area bereft of civic amenities. Sarita by dint of her determination has overcome all these hurdles and has acquired multifarious skills by being involved in various activities. Sarita helps her mother in the store. She is always concerned about the health of her mother and aspires to have more money to take care of her and the family some day, despite limitations due to her condition.
Presently, both her parents are not keeping too well. In spite of this and having been burdened with the responsibility of looking after her parents and the house, Sarita is training hard for her participation in the Special Olympics World Winter Games 2017 to be held in Austria. With her dedication, single minded determination, courage and skills, Sarita is bound to make an impact in a larger stage in her life despite the hurdles that she faces as a person with disability and coming from a poor family that struggles in the face of so many adversities. She is morally dependent on Ms. Arpita Mohapatra, her coach, confidante and guide who takes care of her like her sister. She is also supported by Ms. Sujata Patnaik, Special Educator, Open Learning Systems who has taken care of her in the Special School from her childhood. Currently Sarita is training under Ms. Sasmita Mohapatra, National Trainer, SO-Bharat
[ww-shortcode-gap height="50″]