[ww-shortcode-gap height="30″]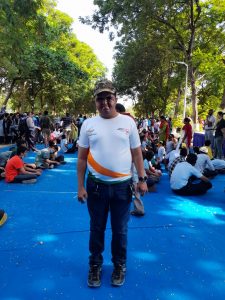 Shubh's Participation in the National Health Fest
When Ashaben Natwarbai Patel lost her husband to Covid 19, last year, she turned to Shubh , her son, for consolation and support. Shubh by then had been trained to run their shop named after him – 'Shubh Electricals' located in Gandhinagar, Gujarat.
Shubh 24yrs now, was born without a forehead. He was born with Apert syndrome, which is a genetic disorder characterized by skeletal abnormalities. His parents, while trying to understand the unique features their son was born with, had to confront family and friends as well. One of the titles given to their son, 'demon-like' son, remains imprinted in Ashaben even today. Shubh's parents felt abandoned at that but stood by each other. No one visited the hospital to welcome the child. A few days on and his parents decided to take on the journey by themselves at times weeping and at other, determined to win, by doing the best for their son who was unique and a blessing. They named him – Shubh meaning 'Auspicious'
Shubh's family is from Mahadevpur Village, Vijapur, Gujarat. (About 60 kms from Ahmedabad) Through finances coming from selling the land they got several corrective surgeries performed on Shubh between ages 2 and 9. They wrote to the government for support as well.
As Shubh grew and attended the special school, his condition and abilities started to surface and a comfortable attitude amongst the surrounding community started to show. His parents travelled a long distance each day to have him attend school. Approx 10 years back he joined Special Olympics and participated in Athletics, Bocce and Table Tennis under the mentorship of his Coach, Jignesh Raval. Shubh plays Table Tennis regularly at a facility near his residence.
The neighbourhood children cheered him when he ran. They welcomed him each time he came back from a sporting event of any level. Shubh recalls going to the gym regularly with his father but that stalled with the onset of the pandemic. He began to gain confidence, socialising with everyone. He is a friend and a mentor to many children in the neighbourhood. He buys them ice-cream; he plays with them, feeds the stary dogs, feeds the birds. He is comfortable with his deformities and has learnt to move on.
"We started to progress financially after his birth. I have attended the camps and I can see how participation in sports reigns supreme. When they win a medal, sometime later many don't even remember that, but the joy and positivity that sports brings, remains and impacts. So many people stopped me but I trusted my son. I was adamant to have him stand on his feet"- says his mother. He has an elder brother who is currently in UK doing further studies. Shubh is a member of the Gandhinagar District Committee
[ww-shortcode-gap height="50″]