[ww-shortcode-gap height="30″]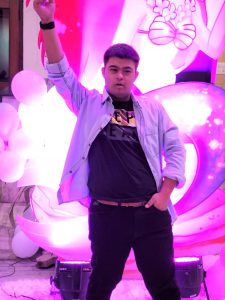 Playing To Unify
This is what you would feel as you observe Shubham and Honey. Since we might want to understand who they are; while Shubham is a youth without and ID (Intellectual Disability), Honey is one who has an ID. When we view the sports-space they share and beyond, we realise that they are like any other two individuals who play together, share common goals and experiences; they spend time discussing strategies of their game/ skills, specifically these days Badminton, as Honey is preparing for an upcoming virtual Badminton competition.
Honey Singh is a fun-loving Athlete from Bareilly, UP. He is often seen wearing sun-glasses and dancing, to mimic the star who has the same name. He stands in stark contrast to his aunt, both of whom have Down Syndrome. While his aunt was kept back, isolated from the rest of the world, Honey continued to go out, move in the society, play sports. His aunt often was called names and was avoided by family and neighbours.
Honey was diagnosed with Downs Syndrome soon after birth. Even before the diagnosis his parents knew his condition as both are doctors. His delayed milestones established the reality, first in his movements and then in his speech and posture. His mother knew that special care for her son would be lifelong. Honey was born in 2006. Right from the beginning, he was made to join activities that would take special care of his movements and growth. Having seen her cousin lead a life of rejection, Dr Sandhya was sure that she would not let her son have the same life.
She made him join Jeevandhara Rehabilitation Research Institute in Bareilly. He joined various activities there including Special Olympics sports. He participated in Badminton and Cricket. He is very fond of dancing too. However, it is Sports that has made him focussed, social and independent. His participation in the sports camps, his independent travel etc has made him confident. As his mother says, Sports has made him pursue physical activity like no other and keeps him occupied meaningfully through the day
Honey spends maximum time with his grandmother (paternal). He is also very fond of his teachers in school.
Unified sports, that have teams composed of players with and without ID, have brought Honey and Shubham together. Shubham is a passionate sportsperson playing multiple sports including Badminton and Football. Playing with Honey has brought him more opportunities to play and has also sensitized him towards differences and their acceptance. Shubham visits Honey's school regularly to train various other Athletes along with Honey. Honey has made Shubham aware about Special Olympics. The continuous engagements & interaction seem more comfortable and natural with every successive opportunity. Both belong to Bareilly, a city in Uttar Pradesh that has been able to reach out to over 250 schools, mainstream, special and integrated with the Unified Sports programming, since 2018, through the support of SNF (Stavros Niarchos Foundation).
[ww-shortcode-gap height="50″]