[ww-shortcode-gap height="30″]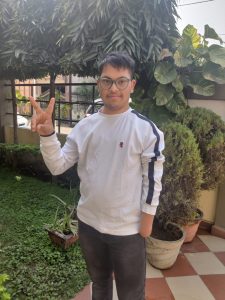 Establishing an Identity despite Challenges
Vibhu Aggarwal, now 18 yrs, who left his parents speechless through his diagnosis, now holds a pride of place in his family. He is a person with Down Syndrome, born without a palm in the left hand. He hails from Raigarh Chattisgarh.
When Vibhu was approx. a year old, he was diagnosed with Down's Syndrome, with the doctor clearly telling his family that he will not be able to lead a normal life. Shocked by the verdict and unsupported by a city that had no special schools pushed his parents to the corner. Vibhu demonstrated delayed milestones including a delayed speech that he developed not before age 3. A roller coaster ride began for his parents, but the cheer on the face of Vibhu made them accept the situation with a determination to do anything to make him achieve his best. He started his schooling from a normal School and studied until the 7th standard after which he passed 10th through open schooling. Raigarh is a small town in Chattisgarh where people were unaware of the condition. The mainstream schools refused to admit him. He was admitted in a mainstream school for a short while but soon after getting into a brawl there, his parents decided that home was safer. His parents, Ms Shalini Agarwal & Mr. Praveen Agarwal divided the day to ensure that he followed a routine. His day had him study & take Casio and dance classes.
As Vibhu grew his talents started to surface and the list goes on. He moved with the music, felt happy when he danced, played the Casio, played Chess and since 2018 has shown an inclination towards sports, specifically, Badminton and Basketball. He participated in the Virtual Basketball competition hosted by the SO Bharat Gujarat State Chapter securing a second position. He is currently playing Basketball under the mentorship of Ms Anju, the SO Bharat Coach. He is mentored by Mr Avichal Sharma and Mr Ravi Jain who constantly monitor his sporting skills. In his free time, he helps his mother in the house chores. In 2020 he participated in the virtual dance competitions hosted by SO Bharat virtually, as also in a national level virtual dance competition that had the Bollywood celebrities on the panel where he won a first prize. He is fond of watching TV. Based on his favourite series, he dreams of becoming a CID officer!
"Vibhu enjoys sports and is very serious about his practises. It keeps him physically and mentally fit. He practises Badminton in a club nearby for an hour every day. We are happy that he does all his routine work independently. He knows what to wear, he is conscious of his clothes. He has given a few stage performances as well that have made him confident. His video was selected to be presented in the world down syndrome Congress Dubai 2021. We are blessed to have Vibhu as our son."- says Shalini
[ww-shortcode-gap height="50″]