[ww-shortcode-gap height="30″]

Lions Clubs International and Aruna Abhey Oswal Trust
Mission Inclusion : Bharat was launched in August 2017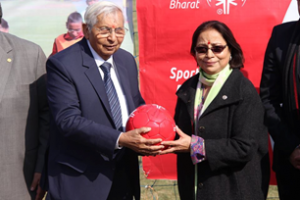 in the presence of 150 Special Olympics Athletes, Coaches, Family Members, dignitaries from Lions Clubs International, esteemed Govt officials and representatives of Special Olympics Inc and Special Olympics Bharat.
The launch highlighted a historic commitment made by Mrs. Aruna Oswal, through the Aruna Abhey Oswal Trust, to create an expanded inclusive development platform across India to benefit children and adults with intellectual disabilities, their families and their communities. As Founder of the Aruna Abhey Oswal Trust, and as the then International Director of Lions Clubs International, Mrs. Aruna Oswal's commitment also provides increased opportunities for Lions Clubs volunteers and their youth network, Leos, to serve under marginalized communities throughout the country. For meaningful execution of this Mission SO Bharat received USD 1 Million creating expanded programming over an initial 3-year term.
The launch serves as a national extension of the global Special Olympics- Lions Clubs International global partnership, titled "Mission: Inclusion", which brings service, support and inclusive programs for individuals with intellectual disabilities as part of a multilateral commitment to forge full social inclusion.
ENGAGEMENT REPORTS :
[ww-shortcode-gap height="50″]