By MAHI DHERI AND RITHIK HUKKU (UNIFIED PAIR, SO BHARAT)
"Have an audacious ambition and a restless dissatisfaction in your heart, that's what you need to change the world" – these were the lines we heard during the global youth leadership forum in Baku, in 2018 by Dr Tim Shriver, Chairman, SOI and the words continue to resonate within me even today.
I am Mahi Dheri, student of the 12th Grade from Apeejay School Pitampura and my Unified partner in this project was Rithik, Athlete leader and an awesome Cricketer. As we look back and reflect on our journey as a unified pair who set to bring a change with their small efforts and spread awareness about intellectual disability and make a more inclusive society, we can say that we were successfully able to complete our project and were able to move one step closer to a more inclusive world!
I am so excited that I was selected for this project. I met Rithik and many more new people and visited new places, everything affected me snowballing into such a great experience and learning. The one thing I liked most was that we were able to start it in a new and different region altogether- while I stay in Delhi we activated the youth in Jaipur , which is a different state. I was able to see the power of youth and the change we , as a young generation can create if we have the will and the resources to do so. Nakul& Aaynu just joined us so naturally. In fact they too are now taking the lead to spread the movement in other parts of Rajasthan. How cool is that! I also experienced a new sense of confidence in myself when I was able to implement the project successfully.
However there were challenges, I have never worked so closely with a person with Intellectual Disabilities before. I do realize that until you do not engage with them, Inclusion can never happen. Challenges are there. We have worked together, planned together, got impatient with each other and all of that. Otherwise too, we still need to make people aware. Much needs to be done here. However, I really need to say that Rithik never fails to inspire me. He has this incredible ability to be cheerful all the time and make everyone around him happy even in the most nerve racking situations. He works with full energy and gives his 100% in everything he does. At the same time, I think he should exercise more to keep himself physically fit, active and focused!
He can also polish his communication skills so that he can convey his ideas, thoughts and feelings more confidently and clearly- he has a great potential to do so
As we reflect the experience together we do conclude that "Inclusion begins with a heart and will".
——————————————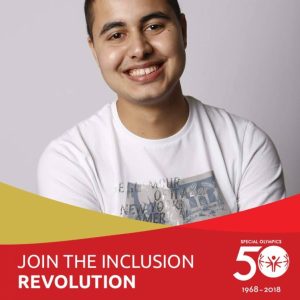 My name is Rithik Hukku and I have been with SO Bharat since 2006. The best thing I like is that so many new people, schools got an opportunity to know about SO Bharat through this project and came forward to participate and support us. Secondly, I like most is that we were successful in reaching out to many people and doing events in the new place, new schools, new students.
The biggest challenge that I faced was to tell them about SO Bharat. It took a lot of time in explaining what is SO Bharat and how can they benefit and join us. However I discussed with Mahi over the phone and with Renu ma'am and went forward.
I learnt from Mahi how to cooperate and work as a team. She is my good partner and we have a very good understanding with each other. I wish to take her as my partner/pair in all the new events and projects. As of now I have to wait for her to complete her Board exams which will be till March 2020. I think that after that she should interact more with me on a daily basis or at least regularly.