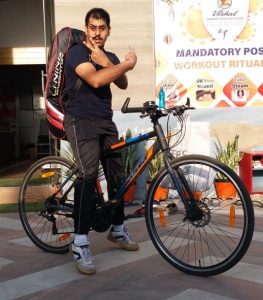 Sumant Kale's fitness regime doesn't begin and end with an event. It is a lifestyle. It is important for him. To complement this inclination, he connects very well with his Unified Partner, Rohit Raghuwanshi who hails from Ashok Nagar in Madhya Pradesh. The Fit 5 Offline Campaign held in October- November 2020 for 5 weeks, once again pushed the pair into a 'Fitness' activity that encouraged them to keep tabs on each other. Sumant recently also participated in the 6th edition of the Run Bhopal Run event held virtually in December 2020. He walked as well as cycled covering over 10 kms on separate days.
The Special Olympics Fit 5 program has further helped him create a roster that will keep him conscious of his fitness, diet and hydration. Rohit, his Unified Partner also a Coach with SO Bharat Madhya Pradesh since 2015 followed the program and also monitored the regimen for 2 weeks with another group of 5-6 Athletes, monitoring their progress virtually.
Sumant Kale , 28 yrs, is an Athlete from Bhopal, Madhya Pradesh now travels independently within the city on the cycle gifted to him by Rohit .Rohit Raghuvanshi 23 yrs is currently pursuing Masters in Physical Education from the Jiwaji University Gwalior, Madhya Pradesh
Back in 2017 Rohit had no idea of the extent of abilities of the Special Athletes. Their reaching the National and International levels was a revelation for him. He joined the organization, and started to interact more with Sumant and his family delving heart and soul into the organization. Rohit recalls, "During the Fit 5 offline Campaign, I used to feel lazy to follow the routine at times, but Sumant kept tabs on me to ensure that I don't break it" Sumant has participated in Athletics, Badminton, Cycling and Swimming and also maintaining fitness levels by visiting the gym regularly.
Sumant is a single child of his ever-doting parents who spend every moment to create a conducive environment for him. Their cheerful demeanour exudes joy and energy into any session that they are a part of. An unfortunate accident at the time of birth left Sumant with a Head injury that may have led to Intellectual challenges as well. By the age 5/6 yrs he started to speak with therapy. Sumant fell victim to reprimands from his teachers, bullying at the hands of his class mates, and all this pushed him into a space of isolation and frustration that touched the lives of his parents as well. He experienced sleeplessness. He was advised to pursue physical activities that would exhaust him and push him to sleep. This introduced him to the world of sports and through that Special Olympics Bharat.
His mother, Ms Manjari Kale, recalls his first experience in a swimming competition. He was nervous, he was shivering, but she kept cheering him on. He swam and faced the challenge; and everything around him changed in a way that seemed so natural. Empowerment and self-respect embraced him. Covid 19 once again threw him into silence as he wondered what now! However, this too passed, and today he realises that even this period continued to keep him active and interactive, in a new way though. Sumant works in a Vocational Rehabilitation Centre and follows a fitness routine that keeps him occupied from 5:30Am- 6PM. Rohit continues to attend his classes online but manages to side-hustle with Special Olympics.
"Special Olympics is a continuous platform that has kept Sumant and other Athletes so busy, more so during the lockdown. The frequent virtual sessions and increased interactions have exposed even us to the abilities of the Athletes and of my son as well. Participating in Fit 5 Offline, Sumant himself has become so careful of his water intake. We used to keep checking him earlier, but this program has drawn his attention to it. They may not be spending too much time together but Rohit is a friend who really cares and Sumant reciprocates the feeling"- Ms Manjari Kale, Parent of Sumant Kale